---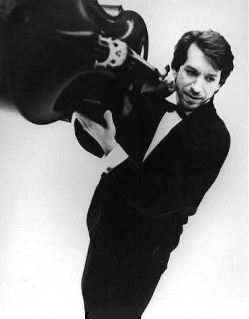 British cellist Robert Cohen is firmly established as one of the world's leading soloists and is recognised as one of the most inspiring musical personalities on the platform today. His career takes him on major tours of the USA, Europe, Eastern Europe, Scandinavia, Australia, New Zealand, Japan and the UK, performing with conductors such as Abbado, Jansons, Marriner, Masur, Muti, Rattle, and Sinopoli.

Cohen made his concert debut at London's Royal Festival Hall playing a Boccherini concerto at the age of 12. His prodigy was nurtured by the great pedagogue William Pleeth. He also took part in classes with Jacqueline du Pré, André Navarra and Mstislav Rostropovich, and at the age of 19, after winning several major international competitions, he made his recording debut, Elgar's cello concerto with Del Mar and the London Philharmonic. Outstandingly acclaimed, he received several awards and the disc sold a quarter million in the UK alone. Cohen has made many more award winning recordings for EMI, Deutsche Grammophon, Decca and Collins; from the Bach Solo Suites through the major cello concertos to the Morton Feldman concerto. Rapturous reviews have accompanied the release on BIS of Sally Beamish's concerto 'River'- written especially for Robert and the Academy of St Martin in the Fields. Due out soon is Britten Cello Symphony with the London Philharmonic and Roger Norrington on Decca. This is coupled with the Britten cello and piano sonata with pianist Peter Donohoe. 2003 sees BIS release Cohen's recording of HK Gruber's cello concerto conducted by Gruber.

Cohen has worked as director/soloist with many of the leading chamber orchestras and since his early twenties, has been an inspiration to young musicians and youth orchestras as a conductor, director and teacher. He now devotes a number of engagements each season to conducting and directing concertos from the cello; this season included performances with the, Sofia Philharmonic, Bratislava Chamber Soloists, the Rousse Festival Orchestra and the Orchestra of the Conservatorio della Svizzera Italiana. Next season includes concerts conducting Slovak Philharmonic, Orquesta Sinfónica de Murcia and the Tokyo City Symphony.

He has also performed with many leading players around the world, enjoying especially close relations with artists such as the Amadeus Quartet, composer HK Gruber and the Nobel Prize winning Irish poet, Seamus Heaney. With a wealth of experience, Cohen established a music festival in Sussex; Charleston Manor Festival is a reflection of Robert's personal approach to presenting music and has become an annual summer party of music-making for him and his musical friends.

Cohen's natural and uplifting way of communicating has been seen on TV in many countries and is heard on radio frequently. He is often invited to mastermind special events: "Paris in the 1920's" was the setting for his creation for the City of London Festival, in which he used chamber music, songs, poetry, art, film and literature to reveal the enigmatic characters of the composers who became known as 'Les Six'. For the Bath International Music Festival, Cohen - as director of the 'International Artist in Residence' series - took music from the turn of the centuries and the extraordinary music of the war years to create a series entitled "Turning Points". Among the many themes Cohen has programmed for the Charleston Manor Festival, there have been "Hungarian and Czech Mates" "Entente Cordial", "Basically Beethoven" and "War and Peace".

Cohen's passionate and articulate views on the art of learning, performing and communicating music, have been presented in many music publications and books. His masterclasses have been a source of fascination for musicians and non-musicians alike and he dedicates time for these classes on many of his concert tours of the UK, USA, Europe, Scandinavia and Australia. Since 2000, he has been a professor at the Conservatorio della Svizzera Italiana in Lugano and for four years has been a Visiting Professor at the Royal Academy of Music in London.


---